Welcome to the Association Of Sustainable Business
We are the only Trade Association in the UK dedicated to fighting climate change
Our vision is to make going Green simple, rewarding and profitable for the 5.5 million British businesses that underpin our economy
Join Us
Membership is the simplest way to instantly evidence your business's GREEN credentials
Every Association Of Sustainable Business member that joins is contributing towards the planting and maintaining of forest and woodland trees throughout the world every year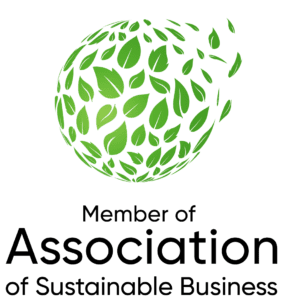 You'll receive a certificate you can display in your premises confirming your GREEN credentials to your customers and staff
You can use your membership logo on your stationery, business cards, website, marketing and advertising materials
– Publicise your commitment
– Win more business
– Help to save the planet
Members have exclusive access to our powerful accreditation schemes, saving themselves thousands of pounds in fees when compared to using private consultants to achieve the same outcome for their businesses
Find our full list of Members Benefits here
Being a member of AOSB lets your business do more to help in the fight against climate change

CERTIFIED

GREEN ™

Uniquely creative in its design, our bespoke members' service is tailored for businesses of all sizes who want their products or services to become environmentally friendly and accredited as CERTIFIED GREEN ™
Carbon
Neutral Accreditation
We offer the only simplified small business Carbon Neutral accreditation scheme in the UK aimed directly at helping SME's with low C02 emissions (including small businesses with under 15-tonnes) to become accredited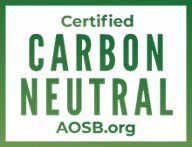 Climate Positive
Our highest level of accreditation, this goes beyond CARBON NEUTRAL as your business begins giving back to the planet
By having a robust carbon reduction plan in place to offset over 120% more greenhouse gasses than it produces across scopes 1, 2 and 3 with us, your business and its products and/or services can become certified as CLIMATE POSITIVE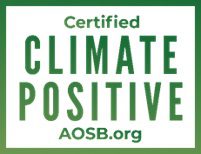 AOSB – One Stop Shop for Business Climate Action
In conjunction with our professional partners we've developed a suite of services to help members simplify their journey to Net Zero by 2050, including:
– Discounted Carbon Accounting Software from our national partners Seedling.
– Detailed Carbon Footprint Measurement
– Professional Carbon Reduction Plans
– Government Contract Complaint Carbon Reduction Plans – PPN 06/21
– NHS Compliant Carbon Reduction Plans
– Net Zero Strategies and Certification
– Climate Action Workshops and Carbon Literacy Training
– Green Finance for high profile projects
Any Questions?
We'd love to hear from you so email info@aosb.org for more information on membership or our Accreditation and labelling.
For more information on our international tree planting and forest preservation and carbon offsetting projects, please click here Projects